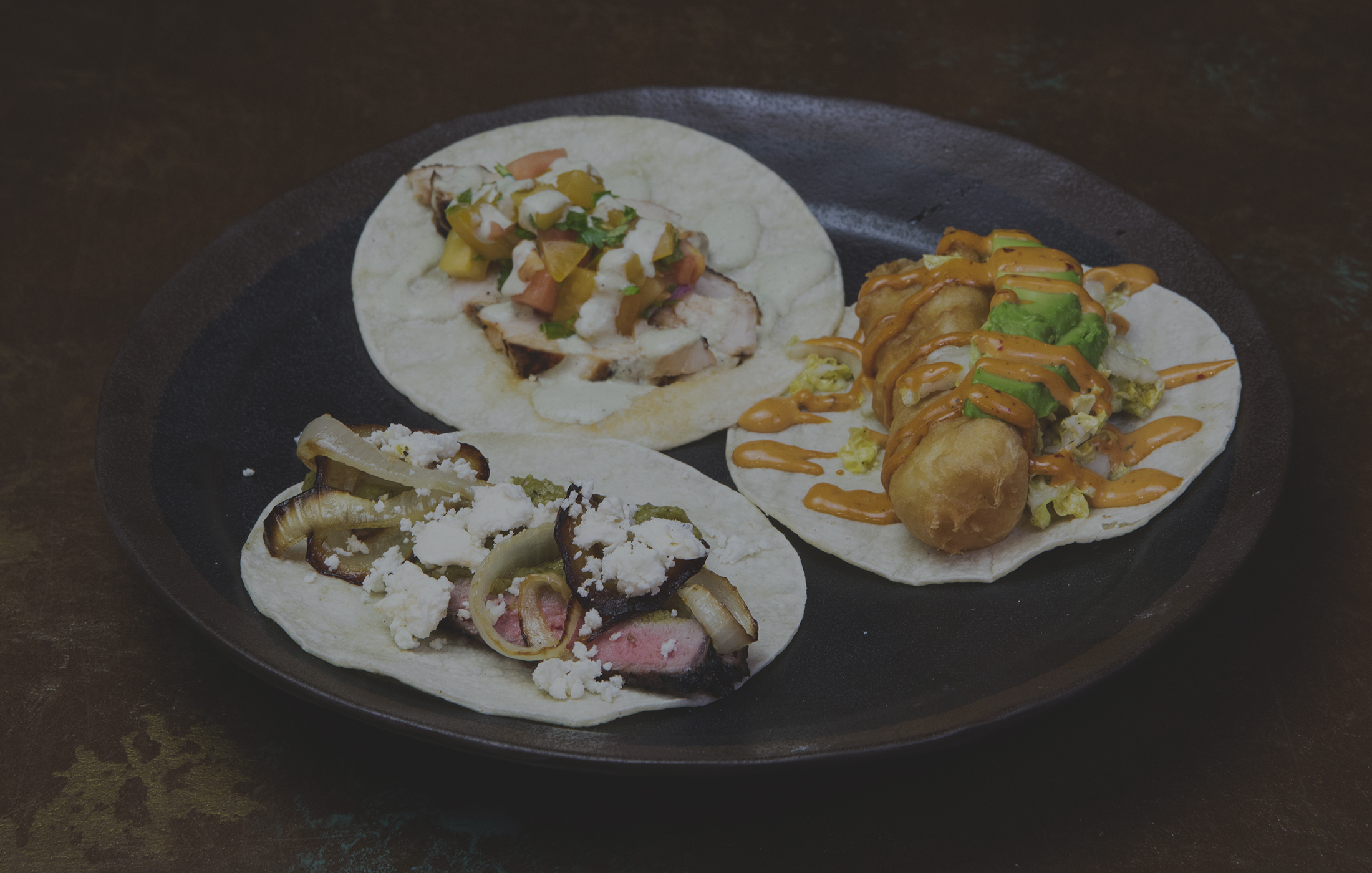 $

10
Queso
100% real Chihuahua cheese, fire-roasted green chiles & smoked paprika served with fresh house-made corn tortilla chips
add bacon for $2 or fresh lump crabmeat for $3
$

8
Black Bean Hummus
black beans, pepita tahini, lime, cilantro, pico de gallo & avocado salsa verde served with grilled flour tortillas
$

9
Guacamole
fresh avocado, jalapeño, vine-ripened tomatoes, red onion, cilantro, lime & sea salt served with fresh house-made corn tortilla chips
$

10
Veggie Quesadilla
bell & poblano peppers, red onion. asparagus & Chihuahua cheese griddled between flour tortillas and topped with chipotle cream
$

12
Monterey Crab Sliders (3 per order)
chilled lump crab, cucumber & Bibb lettuce tossed in a tarragon vinaigrette and served on mini brioche buns
$

7 for 2 salsas /

$

9 for 3 salsa
Salsa Sampler
fresh corn tortilla chips served with your choice of our house-made salsas: salsa roja (tomato, chipotle, onion, garlic), pico de gallo (fresh tomato, jalapeño, onion, cilantro), or pineapple salsa (pineapple, jalapeño, onion, cilantro, lime)
$
7 for 2 salsas /
$
9 for 3 salsa
Salads & Sandwiches
Enhance your salad with wood-grilled chicken for $4, wood-grilled flank steak for $6, or wood-grilled Faroe Island salmon for $7. Sandwiches are served with your choice of fried Yukon Gold potatoes or Charro Beans (pinto beans simmered with bacon, tomato, & onion)
$

9 full /

$

5 half
Ensalada Verde
spring greens, cherry tomatoes, cucumber, radish & cotija cheese tossed in a spicy grilled lime vinaigrette
$

11
Calavera Cobb Salad
Bibb & green leaf lettuce, applewood-smoked bacon, cherry tomatoes & hard-boiled egg tossed in a blue cheese dressing
$

14
Mango & Shrimp Salad
grilled tiger shrimp, fresh mango, baby spinach, pickled peppers, red onion, cilantro & toasted pepitas tossed in an avocado-citrus dressing
$

14
Cali Chicken Club
wood-grilled chicken breast, applewood-smoked bacon, green leaf lettuce, tomato, guacamole & chipotle aioli served on a toasted brioche bun
$

14
Green Chile Smashburger
2 Black Angus beef patties, roasted poblanos, pepper jack cheese & green chile crema served on a toasted brioche bun
$

15
Salmon BLT
wood-grilled Faroe Island salmon, applewood-smoked bacon, green leaf lettuce, tomato & avocado aioli served on Texas toast
$

28
Crab Cakes
fresh jumbo lump crab cakes served with an arugula-mango salad and avocado aioli
$

22
Salmon Calypso
wood-grilled Faroe Island salmon fillet glazed in agave & lime, topped with pineapple salsa, and served with cilantro-lime rice and sauteed spinach
$

29
Filet Francisco
wood-grilled filet mignon crowned with a bacon-blue cheese crust and served with Yukon Gold potatoes & roasted portobello mushrooms
$

17
Crispy Chicken & Waffle
hand-breaded chicken tenders on a house-made Chihuahua cheese & scallion waffle with a creamy Southwestern pan gravy
$

17
Stacked Chicken
grilled chicken breasts layered with sauteed baby spinach, portobello mushrooms & artichokes in a sherry cream sauce and served with a potato, chive, & peppadew pepper hash
$

16
Garden Enchilada
roasted asparagus, peppers, mushrooms & onions layered between corn tortillas and smothered in Chihuahua cheese with a creamy tomatillo sauce and a side of smashed black beans
Calavera Fajitas
Calavera fajitas are served on a sizzling cast-iron skillet accompanied by flame-grilled Spanish onions, bell peppers, cilantro-lime rice, smashed black beans, pico de gallo, lime wedges, shredded lettuce & soft flour tortillas. Choose from the following wood-grilled options:
.
$

23
Citrus-Chile Flank Steak
Street Taco Platters
Two street tacos per order served on soft flour tortillas with cilantro-lime rice, smashed black beans & lime wedges. We also offer gluten-free 100% corn tortillas upon request.
.
$

13
Pollo Adobo
wood-grilled adobo-marinated chicken breast, pico de gallo, green chile crema
$

14
Baja Fish
fried fresh Atlantic cod, crunchy rainbow slaw, malt vinegar aioli
$

14
Tequila Lime Shrimp
wood-grilled fresh shrimp marinated in tequila & lime, guacamole, citrus-pickled red cabbage
$

15
Carne Asada
wood-grilled flank steak marinated with citrus and chile, avocado salsa verde, charred jalapeño, radish, queso fresco
$

15
Al Pastor
adobo-rubbed pork tenderloin, pineapple salsa, cilantro, lime *Due to the specialty nature of this classic preparation, quantities are extremely limited and tend to sell out quickly.
For The Kids
On Monday nights kids 12 and under eat for free! Purchase one adult meal and receive a free meal from our kids menu!
$

5
Savory Ground Beef Taco
$

5
Wood-Grilled Chicken Taco
Desserts
We hope you saved some room!
$

8
Dessert Tostada
crispy flour tortilla / vanilla ice cream / cinnamon sugar / warm spiced Mexican chocolate
$

8
Canela Cheesecake
Mexican cinnamon cheesecake / graham cracker crust / dulce de leche drizzle
$

5
Millie's Homemade Ice Cream
2 scoops of chocolate, vanilla, dulce de leche, or dairy-free coconut-lime sorbet